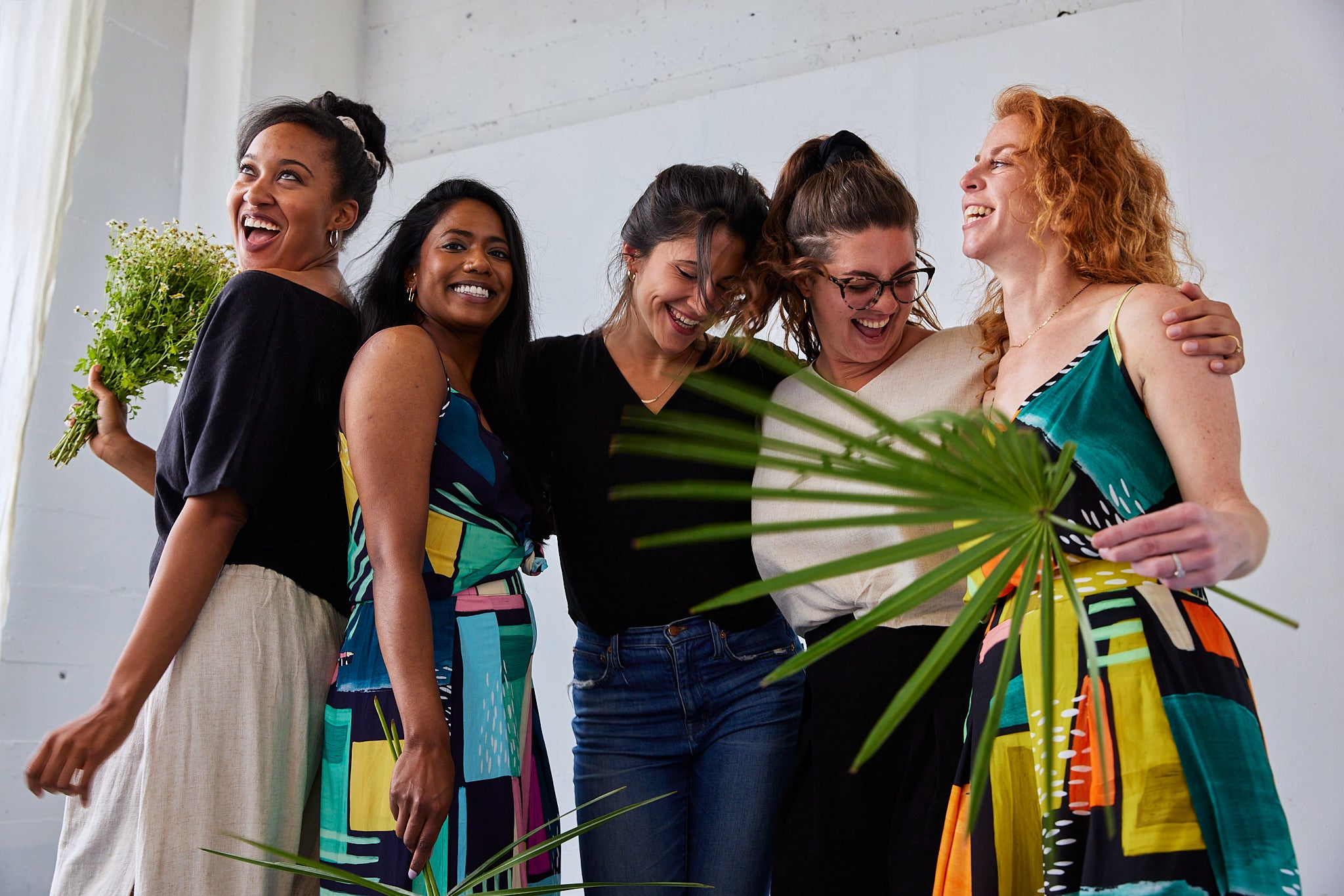 HUMBLE BEGINNINGS
The Devan Gregori label began in a small apartment in Oakland, CA. With the encouragement of a few close friends, Devan quit her corporate day job to build this thing. She was looking for answers to her questions: why can't I have actual pockets? Do I have to sacrifice dope design for functionality? Is it really this hard to find an approachable statement piece?
This label is the sum of all of those answers.
This label is on a mission to put the "fun" back in functional when it comes to fashion. We want to feel confident and sexy while navigating whatever comes our way at any given moment of the day. Approachable statement pieces designed to integrate with any wardrobe are paired with core silhouettes that have deep pockets, sashes to accentuate any waist and elastic in addition to zippers at the waistline for ease and comfort.
We create garments that will become the most beloved pieces in your wardrobe, the ones you keep going back for over and over again.
As a small, independent label, we recognize that we can't do everything at once, but we're doing what we can right now with the resources we have and continue to strive for more.
Inclusivity
Our community is our biggest asset - we wouldn't be here doing what we're doing if it weren't for you. This label was designed to be for everybody and every BODY. That's why we are committed to:
- Ensuring diversity in the representation of this brand to the outer world
- Continually expanding our size ranges to be more inclusive
- Fostering collaborations with creatives who are championing diversity, inclusion and equity in their work
Responsible Tailoring
Our pieces are proudly and responsibly made in Dalian, China.
We are committed to manufacturing transparency and dispelling the negative stereotypes around "made in China". 
As a small business, we are continually learning, making adjustments and improvements to our methods. We are committed to using high quality natural and naturally-derived materials over artificial ones. We are committed to creating less waste in our production process. And we will continue to improve on other aspects of our business.

Thank you for joining us on the journey :)
Sustainability
Sustainability is not a marketing strategy; it's a responsibility. We deeply believe in treating our planet with kindness and respect, and take steps to ensure that it's reflected in our approach. 
- Buy less, choose well and make it last. In a world of fast fashion and many designs going from the rack to landfill, we strive to keep our collections small and our inventory limited.
- We only order enough fabric for what we need, and we make sure to use scraps for our scrunchies and other accessories. 
- Our orders are packed and shipped in materials that are recyclable, biodegradable, and made from mostly recycled material. We sourced packaging materials from partners that we can feel good about working with.
- Our boxes, apparel mailers and packing tape are all recycled, recyclable & composable. Our tissue paper & stickers are FSC-certified, acid-free & printed with soy ink. We even use recycled cotton t-shirts to make our postcards & business cards.